Beta Cyclodextrin, sulfobutyl ethers, sodium salts
Chemical Properties,Usage,Production
Chemical Properties
White powder
Usage
β-Cyclodextrin with sulfobutyl ether groups and sodium ions substituted along the length of the molecule. β-Cyclodextrin is a cyclic oligosaccharide produced from starch via enzymatic conversion. β-C yclodextrin is commonly used to produce HPLC columns allowing chiral enantiomers separation.
Usage
SBE- β –CD is a chemically modified cyclodextrin with a structure designed to optimize the solubility and stability of drugs.
DMF n .: 030167
Nome: sale di sodio sulfobutil etere-beta-ciclodestrina
Altro nome: betadex sulfobutil etere di sodio; sale di sodio sulfobutil etere-β-ciclodestrina
CAS: 182410-00-0
Abbreviazione: SBEBCD
Formula molecolare: C42H70-nO35 (C4H8O3S Na) n
Peso molecolare: 1135 + 158n
Solubilità (in 100 cm3 di solvente, a 25 ° C): acqua:> 50 g
Metanolo: <0,5 g
Acetone: <0,5 g
Qaulity: iniezione / grado orale
Standard: USP39 / EP8.4
Confezione: 500g / bag, 1kg / bag, 2kg / bag, 10kg / drum, 20kg / drum o personalizzato
Usa: medico
Specifica: USP39
ITEMS

SPECIFICATION

RESULTS

Appearance

White to off-white solid, free from foreign matter

Qualify

Solution Clarity

A 30%w/v solution in water is clear and essentially free from particles of foreign matter

Qualify

Identification (IR)

Consistent with SBECD standard

Qualify

Sodium Identification

Identify test are positive for Sodium

+

Average Degree of Substitution

6.2-6.9

6.7

SBE 1 Content

≤0.2%

0.05%

SBE 2 Content

≤0.8%

0.15%

Water solution pH

pH of 30%w/v solution in water is 4.0-6.8

5.4

Heavy Metals

≤5ppm

<5ppm

Water

≤10%

4.0%

β-Cyclodextrin Content

≤0.1%

Absence

Sodium Chloride

≤0.2%

0.01%

1,4-butane sultone

≤0.5ppm

0.3ppm

4-Hydroxybutane-1-Sulfonic Acid

≤0.09%

0.01%

Disodium bis-(4-sulfobtyl) ether

≤0.05%

0.05%

Assay

95%-105%

99.5%

Bacterial endotoxins

≤25EU/g

≤20EU/g

Microbiology

Total viable aerobic count (mould plus yeast)

≤100CFU/g

20CFU/g

Escherichia Coli

Absence

Absence

Salmonella species

Absence

Absence

mould plus yeast

≤50CFU/g

Absence
Caratteristiche e applicazioni:
SBE-β-CD è un derivato ciclodestrina anionico alto solubile in acqua. Può facilmente formare complessi di inclusione non covalenti con molecole di farmaci, quindi ha le buone prestazioni nel migliorare la stabilità del farmaco, la solubilità e la sicurezza, riducendo la tossicità e l'emolisi del farmaco, coprendo il cattivo odore e controllando il tasso di rilascio del farmaco.
SBE-β-CD è stato utilizzato nelle terapie iniettabili, orali, nasali e oculistiche. La modifica da parte delle unità funzionali caricate può migliorare l'affinità di legame delle ciclodestrine per gli ospiti con carica opposta, quindi ha un'affinità speciale per i farmaci con elementi di azoto.
Altre produzioni:
Imballaggio e spedizione
Confezione:
Peso 1.Net: 25kgs nella borsa di plastica tessuta o nella borsa di Kraft;
2,25 chilogrammi di barile di carta (diametro 60 cm, altezza 60 cm);
3. Offriamo anche il pacchetto che i clienti richiedono
Dettagli di consegna:
1. Per l'ordine del campione: spediremo da espresso internazionale, come dhl, tnt, ems, ups, fedex, ect.
2. Se il tuo ordine è ampio, prenderemo in considerazione il trasporto aereo o marittimo, tutti i termini relativi ai dettagli di cui discuteremo nel contatto, organizzeremo in base alla tua richiesta.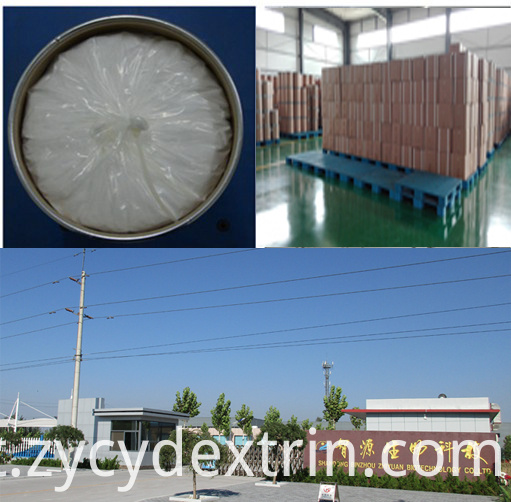 Elenco prodotti : Sulfobutyl/metil Beta ciclodestrina > Sulfobutyl Beta ciclodestrina